March 15, 2011
May the road
rise to meet you,
May the wind be
always at your back,
May the sun shine
warm upon your face,
The rains fall soft
upon your fields and,
Until we meet again,
May God hold you in
the palm of His hand.
St. Patrick's Day History and Traditions
St. Patrick
- Born in Scotland, St. Patrick is credited with spreading Christianity in Ireland around 431 A.D.. He used the shamrock as a way to convince people to convert. According to folklore, St. Patrick rid Ireland of all snakes by driving them into the sea. Some stories also say that he could raise people from the dead. St. Patrick died on March 17th, A.D. 461. Most businesses in Ireland are closed on this day in honor of the holiday. St.Patrick's Day was first celebrated in the United States in 1737.
Wearing Green
- Ireland has long been associated with the color green. After all it is nicknamed The Emerald Isle! As Ireland's national color, the wearing of the green gives us hope for the beautiful green of spring.
Shamrock
- St. Patrick used the shamrock as symbol to explain how the Father, Son, and the Holy Spirit could remain separate, but together as one. Also, the national symbol of Ireland, it is said to bring good luck.
Irish Fare
- In keeping with the celebrations of St. Patrick's Day, Irish food is a favorite choice whether you are Irish or not. Traditional dishes include Irish Stew, Champ (potatoes with scallions), and Scones. One of the most popular meals, Corned Beef and Cabbage along with green beer is not traditional Irish fare, but is served as a St. Patrick's Day specialty in the United States and elsewhere.
Leprechaun
- According to Irish folklore, the leprechaun is a tiny, unfriendly old man that may even look like an elf. He carries a miniature hammer for the making of shoes. He always has a pot of gold that he keeps hidden at the end of a rainbow. Leprechauns are very difficult to find and if you do, watch him closely, or he will vanish right before your eyes.
Luck of the Irish
- The Irish are known for being lucky due to the many adversities that they have fought throughout history. Therefore, the Irish must have good luck to overcome their misfortunes.
Blarney Stone
- Located at Blarney Castle in Ireland, the Blarney Stone is believed to contain special powers. Many stories say that if you kiss the Stone that you will be able to persuade others through your "blarney" (pleasant talk).
Erin Go Braugh
-
This saying is ofter heard on St. Patricks Day and means Ireland Forever
.
By Coilin Owens, Irish literature expert and Professor Emeritus of English at George Mason University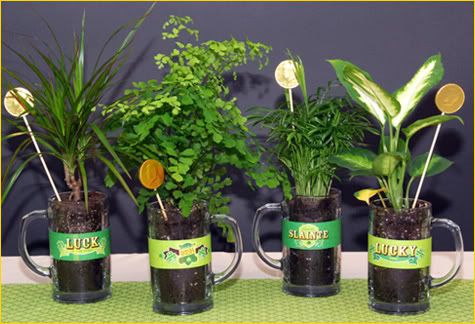 Click on the picture to download
Perfect for a St.Patrick's Day party
Click on the picture to download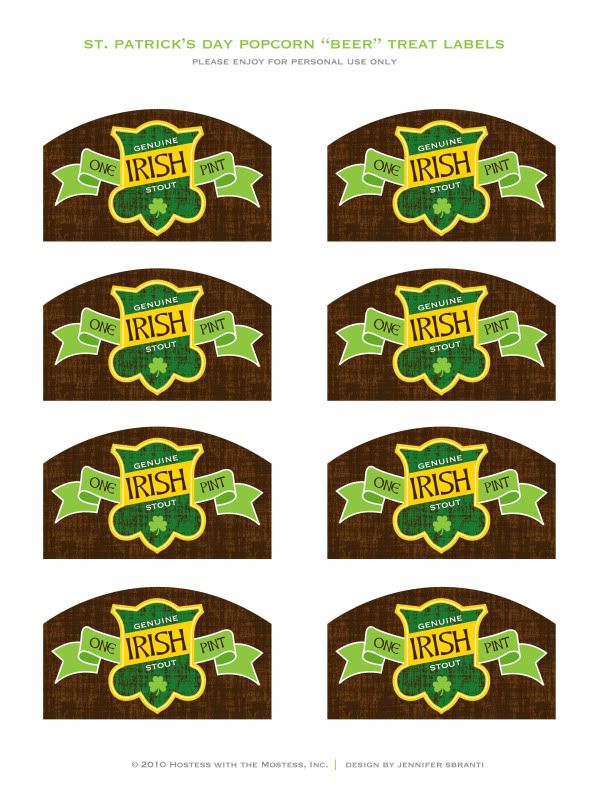 Thank you Jennifer!..for further free downloads and party ideas check her blog out at
http://legacymedia.hostessblog.com/
Blog hopping along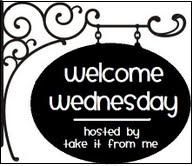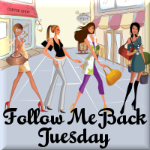 March 13, 2011
Happy Daylight Savings Day!!...I don't look at it as losing an hour but as being one step closer to Spring and her sister Summer. One of my fave sisters EVER!...right next to Saturday/Sunday. I just LOVE my sisters!
I am on my 9th cup of coffee and have caught up with the 3 loads of laundry, cleaned the house and about to make a new Easter egg wreath. For the past 3 weeks the contents of this unborn wreath have been sitting in a bag on my dinning room table staring at me while I did the ignore. Must say, I'm good like that : P
I have come across some wonderful things in the past couple of days I would like to share with y'all.
Just click on the images for the instructions or to get the lowdown on it.
This is a perfect and free activity pack to keep the little ones busy while teaching them about St.Patrick's day.
Is this not adorable!..Cesina and I will be making that sometime this week.
How about making some Easter egg outfits?
Don't know what to make for dinner tonight?..or let alone the week?..Let this handy dandy Dinner tool do it for you...it even makes out the grocery list based on what dinners you have planned for the week!..no more running to the store because you forgot to buy one thing...something I do alot!
Need some ideas as to what books to buy as a gift or for your own little ones..wonder no more..here is the "list" of 20 Bedtime Books Every Parent Should Have in Their Library.
Like interesting yet irrelevant facts...got the perfect website for you!
Off I go to give birth to my wreath . Hope you enjoy my fresh ideas : )
March 10, 2011
St. Patrick's Day is an Irish holiday celebrated all around the globe to honor the patron saint of Ireland, Saint Patrick.
When Is St. Patrick's Day?
Saint Patrick's Day is celebrated each year on March 17th.
Note for 2008: For 2008, the Catholic Church has officially moved St. Patrick's Day to Saturday, March 15th to avoid a conflict with the Holy Week leading up to Easter Sunday. Most secular establishments in the US and Canada, such as restaurants and bars, will continue to celebrate the holiday on March 17th, and the 17th will remain a national day off from work in Ireland.
Even though Saint Patrick the patron saint of Ireland and one of the most celebrated religious figures around the world, the factual information about his life and times is quite vague. Most information about St. Patrick has been twisted, embellished, or simply made up over centuries by storytellers, causing much ambiguity about the real life of St. Patrick. However, there are a some elements of his story about which most scholars accept to be true.
According to Coilin Owens, Irish literature expert and Professor Emeritus of English at George Mason University, Saint Patrick is traditionally thought to have lived "between 432-461 A.D., but more recent scholarship moves the dates up a bit." At the age of sixteen he was kidnapped from his native land of the Roman British Isles by a band pirates, and sold into slavery in Ireland. Saint Patrick worked as a shepherd and turned to religion for solace. After six years of slavery he escaped to the Irish coast and fled home to Britain.
While back in his homeland, Patrick decided to become a priest and then decided to return to Ireland after dreaming that the voices of the Irish people were calling him to convert them to Christianity.
After studying and preparing for several years, Patrick traveled back to Ireland as a Christian missionary. Although there were already some Christians living in Ireland, St. Patrick was able to bring upon a massive religious shift to Christianity by converting people of power. Says Prof. Owens, "[St. Patrick] is credited with converting the nobles; who set an example which the people followed."
But Patrick's desire to spread of Christianity was not met without mighty opposition. Prof. Owens explains, "Patrick ran into trouble with the local pagan priesthood, the druids: and there are many stories about his arguments with them as well as his survival of plots against them." He laid the groundwork for the establishment of hundreds of monasteries and churches that eventually popped up across the Irish country to promote Christianity.
Saint Patrick is also credited with bringing written word to Ireland through the promotion of the study of legal texts and the Bible, says Prof. Owens. Previous to Patrick, storytelling and history were reliant on memory and orally passing down stories.
Patrick's mission in Ireland is said to have lasted for thirty years. It is believe he died in the 5th century on March 17, which is the day St. Patrick's Day is commemorated each year.
The first year St. Patrick's Day was celebrated in America in 1737 in Boston, Massachusetts. The first official St. Patrick's Day parade was held in New York City in 1766. As the saying goes, on this day "everybody is Irish!" Over 100 U.S. cities now hold Saint Patrick's Day parades.
Facts about St. Patrick's Day Holiday
St. Patrick's Day is observed on March 17 because that is the feast day of St. Patrick, the patron saint of Ireland. It is believed that he died on March 17 in the year 461 AD. It is also a worldwide celebration of Irish culture and history. St. Patrick's Day is a national holiday in Ireland, and a provincial holiday in the Canadian province of Newfoundland and Labrador.
In Ireland on St. Patrick's Day, people traditionally wear a small bunch of shamrocks on their jackets or caps. Children wear orange, white and green badges, and women and girls wear green ribbons in their hair.
Many cities have a St. Patrick's Day parade. Dublin, the capital of Ireland, has a huge St. Patrick's Day festival from March 15-19, that features a parade, family carnivals, treasure hunt, dance, theatre and more. In North American, parades are often held on the Sunday before March 17. Some paint the yellow street lines green for the day! In Chicago, the Chicago River is dyed green with a special dye that only lasts a few hours. There has been a St. Patrick's Day parade in Boston, Massachusetts since 1737.
Montreal is home to Canada's longest running St. Patrick's Day parade, which began in 1824.
Facts about Saint Patrick
St. Patrick was born in 385 AD somewhere along the west coast of Britain, possibly in the Welsh town of Banwen. At age 16, he was captured and sold into slavery to a sheep farmer. He escaped when he was 22 and spent the next 12 years in a monastery. In his 30s he returned to Ireland as a Christian missionary. He died at Saul in 461 AD and is buried at Downpatrick.
34 million Americans have Irish ancestry, according to the 2003 US Census. That's almost nine times the population of Ireland, which has 4.1 million people.
Some American towns have "Irish" names. You could visit: Mount Gay-Shamrock, West Virginia; Shamrock Lakes, Indiana; Shamrock, Oklahoma; Shamrock, Texas; Dublin, California and Dublin, Ohio.
The harp is the symbol of Ireland.
. The color green is also commonly associated with Ireland, also known as "the Emerald Isle."
The Irish flag is green, white and orange. The green symbolizes the people of the south, and orange, the people of the north. White represents the peace that brings them together as a nation.
The name "lephrechaun" has several origins. It could be from the Irish Gaelic word "leipreachan," which means "a kind of aqueous sprite." Or, it could be from "leath bhrogan," which means "shoemaker."
According to the Guinness Book of World Records, the highest number of leaves found on a clover is 14!
One estimate suggests that there are about 10 000 regular three-leaf clovers for every lucky four-leaf clover.
Legend says that each leaf of the clover means something: the first is for hope, the second for faith, the third for love and the fourth for luck.
Alecia Dixon is a freelance contributor. Laura Young is editor of Crafts and Holidays & Fun on Kaboose.com.
March 07, 2011
Never did care for Mondays because they come to fast but with Cesina being on March break next week...I thought I would spend the day gathering ideas of how to keep her entertained.
First I decided to try out some dye I got in an Easter dying kit to make sure it wouldn't make a mess when Cesina tries it
I don't think so!..just cutting the dye bags was a disaster and this is after I used the "keep fingers clean bags"
Why stencils it is!...I do love me some washable paint : )
If all of these links fail to keep her busy...
cleaning up after her sisters will = D
This page contains affiliate links. I receive a referral if you use them to purchase these services with no additional cost to you. Thanks so much for supporting the adventures!