May the road
rise to meet you,
May the wind be
always at your back,
May the sun shine
warm upon your face,
The rains fall soft
upon your fields and,
Until we meet again,
May God hold you in
the palm of His hand.
St. Patrick's Day History and Traditions
St. Patrick
- Born in Scotland, St. Patrick is credited with spreading Christianity in Ireland around 431 A.D.. He used the shamrock as a way to convince people to convert. According to folklore, St. Patrick rid Ireland of all snakes by driving them into the sea. Some stories also say that he could raise people from the dead. St. Patrick died on March 17th, A.D. 461. Most businesses in Ireland are closed on this day in honor of the holiday. St.Patrick's Day was first celebrated in the United States in 1737.
Wearing Green
- Ireland has long been associated with the color green. After all it is nicknamed The Emerald Isle! As Ireland's national color, the wearing of the green gives us hope for the beautiful green of spring.
Shamrock
- St. Patrick used the shamrock as symbol to explain how the Father, Son, and the Holy Spirit could remain separate, but together as one. Also, the national symbol of Ireland, it is said to bring good luck.
Irish Fare
- In keeping with the celebrations of St. Patrick's Day, Irish food is a favorite choice whether you are Irish or not. Traditional dishes include Irish Stew, Champ (potatoes with scallions), and Scones. One of the most popular meals, Corned Beef and Cabbage along with green beer is not traditional Irish fare, but is served as a St. Patrick's Day specialty in the United States and elsewhere.
Leprechaun
- According to Irish folklore, the leprechaun is a tiny, unfriendly old man that may even look like an elf. He carries a miniature hammer for the making of shoes. He always has a pot of gold that he keeps hidden at the end of a rainbow. Leprechauns are very difficult to find and if you do, watch him closely, or he will vanish right before your eyes.
Luck of the Irish
- The Irish are known for being lucky due to the many adversities that they have fought throughout history. Therefore, the Irish must have good luck to overcome their misfortunes.
Blarney Stone
- Located at Blarney Castle in Ireland, the Blarney Stone is believed to contain special powers. Many stories say that if you kiss the Stone that you will be able to persuade others through your "blarney" (pleasant talk).
Erin Go Braugh
-
This saying is ofter heard on St. Patricks Day and means Ireland Forever
.
By Coilin Owens, Irish literature expert and Professor Emeritus of English at George Mason University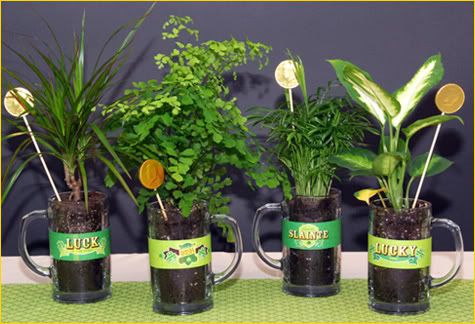 Click on the picture to download
Perfect for a St.Patrick's Day party
Click on the picture to download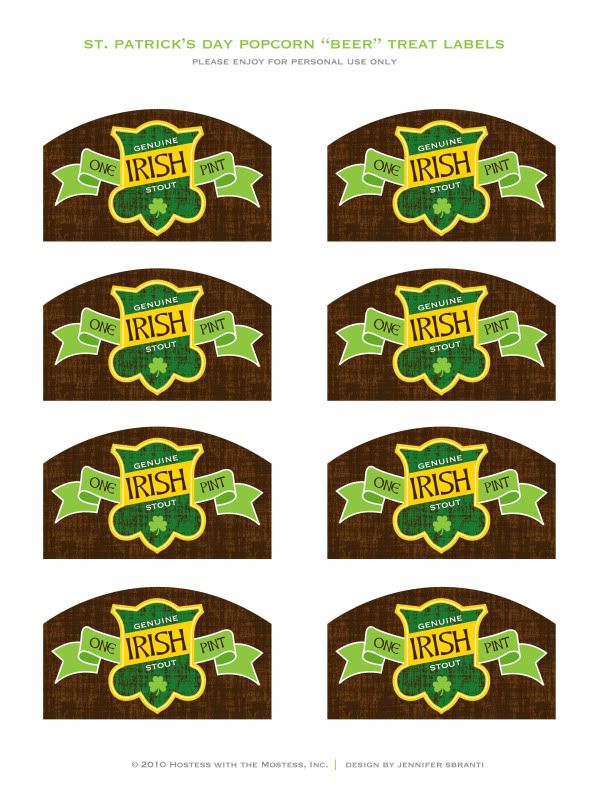 Thank you Jennifer!..for further free downloads and party ideas check her blog out at
http://legacymedia.hostessblog.com/
Blog hopping along