A Father's Day Prayer
Thank you, friend Jesus,
for my father who loves me,
for my grandfather who cares for me,
and for God, your father and mine,
who made me and is always with me.
How lucky I am!
Gaynell Bordes Cronin
From Friend Jesus: Prayers for Children
I thought I would get a head start on Father's day celebrations. With sunny and comfortable temps ahead, most of my time will be spent outside and I don't want it to creep up on me. So here is a little history and some fabulous free printables to help you celebrate the wonderful fathers in your life.
History of Father's Day
History of Father's Day Festival as seen today is not even a hundred years old. Thanks to the hard work and struggle of Ms Sonora Louise Smart Dodd of Washington that just as we have set aside Mother's Day to honor mothers we have a day to acknowledge the important role played by the father. However, some scholars opine that Father's Day history is much older than we actually believe it to be. They say that the custom of honoring dad's on a special day is over 4,000 years old.
Earliest History of Father's Day
Scholars believe that the origin of Father's Day is not a latest phenomenon, as many believe it to be. Rather they claim that the tradition of Father's Day can be traced in the ruins of Babylon. They have recorded that a young boy called Elmesu carved a Father's Day message on a card made out of clay nearly 4,000 years ago. Elmesu wished his Babylonian father good health and a long life. Though there is no record of what happened to Elmesu and his father but the tradition of celebrating Father's Day remained in several countries all over the world.
History of Father's Day in US
Modern version of Father's Day celebration originated in United States of America and thereafter the tradition spread in countries around the world. The world owes thanks to Ms Sonora Louise Smart Dodd a loving daughter from Spokane, Washington as it is because of her struggle that Father's Day saw the light of the day.
The idea of Father's Day celebration originated in Sonora's mind when she per chance listened to Mother's Day sermon in 1909. Fairly mature at the age 27, Sonora pondered if there is a day to honor mother then why not for father? Sonora felt strongly for fathers because of the affection she received from her own father Mr William Jackson Smart, a Civil War veteran. Sonora's mother died while childbirth when she was just 16. Mr Smart raised the newborn and five other children with love and care
Inspired by Ms Anna Jarvis's struggle to promote Mother's Day, Ms Dodd began a rigorous campaign to celebrate Father's Day in US. The Spokane Ministerial Association and the local Young Men's Christian Association (YMCA) supported Sonora's cause. As a result Spokane celebrated its first Father's Day on June 19, 1910. Though there was initial hesitation the idea gained gradual popularity all over US and Fathers Day came to be celebrated in cities across the country.
Looking at the heightened popularity of Father's Day in US, President Woodrow Wilson approved of this idea in 1916. President Calvin Coolidge too supported the idea of a national Father's Day in 1924 to, "establish more intimate relations between fathers and their children and to impress upon fathers the full measure of their obligations". After a protracted struggle of over four decades, President Lyndon Johnson signed a presidential proclamation declaring the third Sunday of June as Father's Day in 1966. Then in 1972, President Richard Nixon established a permanent national observance of Father's Day to be held on the third Sunday of June. Sonora Smart Dodd was honored for her contribution at the World's Fair in Spokane in 1974. Mrs. Dodd died in 1978 at age 96.
Other Theories of Fathers Day Origin
There are several theories behind the origination of Father's Day.
Some believe that the first Fathers Day church service was held in West Virginia in 1908.
Others opine that the ceremony was first held in Vancouver, Washington.
The president of Lions' Club, Chicago, Harry Meek is said to have celebrated the first Father's Day with his organization in 1915 to stress on the need to honor fathers. He selected third Sunday in June for celebration, the closest date to Meek's own birthday. In appreciation for Meek's work, the Lions Clubs of America presented him with a gold watch, with the inscription "Originator of Father's Day," on his birthday, June 20, 1920.
Some historians honor Mrs. Charles Clayton of West Virginia, as the Founder of Father's Day.
In 1957, Senator Margaret Chase Smith wrote Congress that, "Either we honor both our parents, mother and father, or let us desist from honoring either one. But to single out just one of our two parents and omit the other is the most grievous insult imaginable."
In countries where Catholic Church holds greater influence Father's Day is celebrated on St. Joseph's Day (March 19).
Present Day Celebrations
Father's Day Festival has gained amazing popularity over the years. The festival is considered to be a secular one and is celebrated not just in US but in a large number of countries around the world including Argentina, Australia, Belgium, Brazil, France, Germany, Japan, New Zealand, Norway and India though on different dates. World over people take Father's Day as an opportunity to thank father and pay tribute to them. On this day children present Father's Day cards not just to their dads but also grandfathers, uncles, stepfathers or any other person who commands the position of a father in their life. There is also a trend to present Father's Day gift to dad, most popular of all being necktie. Other popular gift being roses, the official Father's Day flower. Many people rue that the trend of presenting gifts to fathers has led to over commercialization of the festival relegating the noble idea behind Father's Day celebration
In Canada, Father's Day is celebrated with lot of enthusiasm and fanfare. Since, the tradition of celebrating Fathers Day moved to Canada from US, Fathers Day in Canada is also celebrated on third Sunday of June. Just as in US, people in Canada too wear roses to express gratitude for their father. Traditionally, if the person is wearing red rose, it symbolizes the person's father is alive. Likewise, white rose means that the person's father is no more.
Children in Canada express affection and honor for their dad by presenting them cards, flowers and chocolates. In modern times, several other gifts of love including neckties, shirts, electronic gadgets, stationery items etc are also gifted to father by loving children. Another noticeable trend about Fathers Day celebration in Canada is that apart from their biological father people wish "Happy Father's Day" to their grandfathers, stepfathers, foster father, uncles or any other man who is as affectionate and loving towards them as a father.
Dadisms on Girls
Don't give me any of your lip, young lady.
Young ladies perspire, they do not sweat.
I knew how to cook when I was your age, young lady!
You're not leaving my house dressed like that! What will other parents think?
Could those sleeves be any longer?
You look like a big lady!
Men are like buses. Just wait on the corner and another one will come along.
You can marry a rich guy just as easily as you can a poor guy.
I love you, princess!
You know you're always gonna to be Daddy's little girl...
Dadisms in General
Don't ask me, ask your mother.
I'll play catch after I read the paper.
Coffee will stunt your growth.
A little dirt never hurt anyone--just wipe it off..
Get your elbows off the table.
This is your last warning.
I'm not just talking to hear my own voice!
Stop crying or I'll give you a reason to cry.
Don't forget to check your oil.
You could drive a wooden man nuts!
You're only young once.
You're gonna like it, whether you like it or not!
The early bird gets the worm. Rise and shine!
If your friend jumped off a bridge would you?
You have things so easy!
Don't look at me in that tone of voice!
What do you think this is, your birthday?
How many times do I have to pound that into your head?
What part of NO don't you understand?
I don't care what other people are doing! I'm not everybody else's father!
Didn't your teacher learn you anything?!
Two wrongs do not make a right.
Don't use that tone with me!
Am I talking to a brick wall?
If I catch you doing that one more time, I'll...
Wipe your feet!
Enough is enough!
Don't make me stop the car!
What did I just get finished telling you?
My father used to tell me...
Act your age.
Go ask your mother!
Just wait until I get you home!
Be home early.
Fill your mouth with food and not with words.
New born child: "I've seen raisin puddings that looked better..."
Promises, Promises! (In response to "I'll never speak to you again!)
Is that a threat, or a promise? (Likewise)
You'll be sorrreee!
Hey, did you hear me talking to you?
Even a blind pig finds an acorn now and then.
"Here I taught you everything I know and you still don't know nothing!"
If I didn't love you so much I wouldn't punish you... I would let you do whatever you wanted.
·Headache remedy: Put your head through the window and the pain will be gone.
I feel for you, but I can't reach you from here.
You should visit more often. Your mother worries.
Go tell your mother she wants you.
Who said life was supposed to be fair?
Always say please and thank you. That way, you get more.
If you forget, you'll be grounded till the end of the world.
Shake it off. It's only pain.
A little pain never hurt anybody.
Don't take yourself so seriously, take what you do seriously!
You're always a winner if you lose with a smile.
Four things come not back: time past, the spoken word, the sped arrow and a missed opportunity.
Life is a journey and you've just reached one of many speed bumps to come.
If you want to do something, do it because you want to. Don't do it because someone else did.
As long as you tried your hardest, that's all that matters.
If ifs and buts were candy and nuts then we'd all have a merry Christmas.
Don't believe anything you hear and only half of what you see.
If you're gonna be dumb, you've gotta be tough.
Worrying about things you can't change is like a rocking chair... it gives you something to do, but it doesn't get you anywhere.
It's hard to be good, and easy to be bad.
Don't tell on anybody unless you tell on yourself first.
The first liar don't stand a chance.
Laugh at yourself first, you'll take the bite out of others doing so for you.
How about a car wash coupon...I would love one myself!
These beautiful blue and yellow printables are from Melody from
Tea Party Designs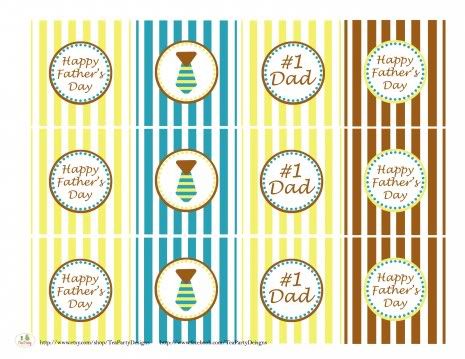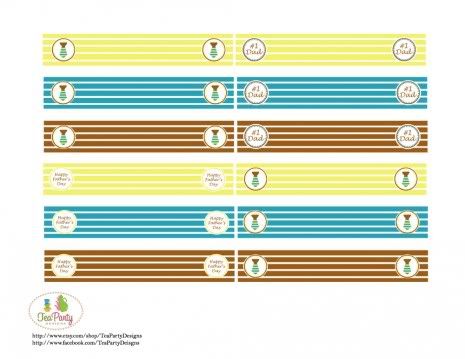 I hope you have a wonderful Wednesday!
It is sunny and a warm, not hot but perfect gardening weather. Enjoy some of Wednesday blog hops.