Feliz Dia Mamas!
May your day be Blessed as mine!!!!
Tomorrow we are going roller skating which is my perfect Momni day activity.
After my husband bought me a pair of quad skates from the
Dominion Skate Company
for my birthday , roller skating has become our new family past time.
The happiness these skates have brought me and mi familia is immeasurable!
Everyone should have a pair and enjoy this happiness.
If you are looking for a pair of roller skates like mine then go to
dominionskate.ca
You won't be disappointed!
Below are Cesina's skates.
Beeeeeeeeautiful aren't they!
Not to mention it's great exercise..perfect timing with summer being around the corner!
These are Valentina's skates. Yes they make skates for children too, don't worry....
I was equally surprised and ecstatic when I found out.
Now we got ourselves a new family tradition!
Roller skating every Saturday morning , Birthday's and Momni day.
Thank you
Dominion Skates Company
for continuing to make roller skates!!!!!!!
Drop by
Dominion Skate Company's Facebook page
to check out their
fabulous links on learning how to roller skate...
When I think back on all the tricks I used to do. Sigh....best of times!
Just in case y'all wondering..
This is not a sponsored post and
I have not received any money or free products from the Dominion Skate Company.
We hit the jackpot when we discovered DSC still made roller skates.
New and old school boot quads like the ones we learnt on as kids growing up in the 80's.
It's such a wonderful experience being able to relive this part of our youth that it would simply be
criminal not to share this Canadian treasure with y'all!!
Especially after savouring that joy of gliding along on a sweet pair of roller skates!
Just look at these Roller skating smiles.
Here are some other Happy Momni Day ideas to help y'all celebrate the day.
Like placing this Mommy Money in a beautiful wooden box or container that is hand painted by the children.
Or having the kids write down a favourite memory and make a book.
Perhaps have Mother's Day party.
Click on the picture below for the free kit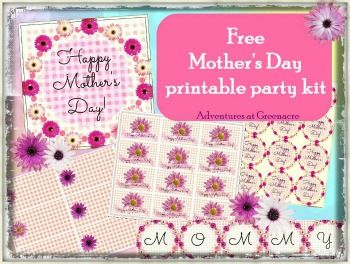 Here is the matching pink gingham template to make your own Mommy Money.
Let the children write down why they think their mama is the best and frame this sign.
Cupcake toppers or favour tags.
Mother's Day meme for social media.
This year I will be taking my abuela to the Greenhouse for their hydrangea display.
Mums for the Moms...but come for a glance at
Greenacre's Spring garden.
The early bloomers found themselves opening ...
amongst the signs of Summer.
Everything is celebrating the return of the warm weather
and MORE ROLLER SKATING!
However y'all spend this day.
I wish y'all a very Happy Momni Day!

Omni Hotels & Resorts is running a Mother's Day Pinterest Sweepstakes
called "Happy Momni Day"! Pin your tribute to your Mom (or yourself!)
for your chance to win!