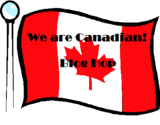 It' SUNNY!!! Woo Hoo the weather man was wrong and I hope the thunderstorm starting in the afternoon changes it's mind. Maybe I will have enough time to cut the new garden bed and weed.
Today is a holiday for Canada because it is Victoria Day. Victoria Day is celebrated in honor of both Queen Victoria's birthday (May 24th) and the current reigning Canadian sovereign's official birthday. It is also the weekend that pools are opened , campgrounds are filled to capacity, fireworks are everywhere and gardens are planted.
The official start of Summer
Enjoy some of my favourite Canadian bands.
The clouds are rolling in and I better get out there as it doesn't look like the thunderstorm changed their mind.
This morning and I was over the moon thinking I was going to spend a beautiful day outside gardening. Ten minutes after I went outside , it started to rain.